Hello and welcome to the IMS2016 STEM Student Experience!
Register
The Program
Science Fair
Exhibition Scavenger Hunt
Contact Us
For Teachers: Send us your intent to participate by April 22, 2016 via email This email address is being protected from spambots. You need JavaScript enabled to view it.
For Students: Please register all students by April 29, 2016.
Register to participate in IMS2016 STEM Student Experience
For Parents: Please fill out and return the Parental Consent and Release Form by April 29, 2016 and email to This email address is being protected from spambots. You need JavaScript enabled to view it.
Participant Consent and Release Form
STEM Contributing Sponsors: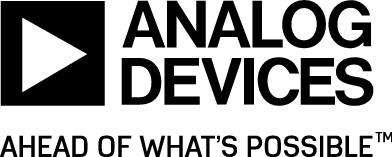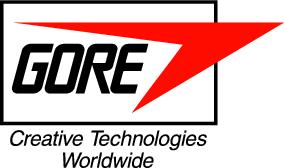 STEM Supporters: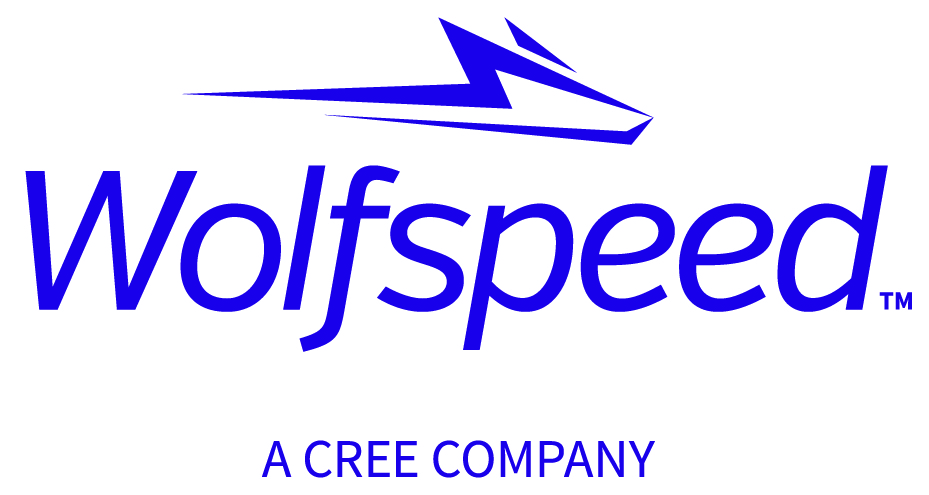 The STEM Student Experience consists of a full day of fun and exciting educational activities centered around the latest in wireless science and technology. On this focus day, students will participate in demos and guided tours that provide an intimate look at the RF and microwave infrastructure which enable today's technological innovation.
The activities include keynotes from industry leaders, a student-held Science Fair and an Exhibit Hall Scavenger Hunt showcasing state-of-the-art electronics technology from major companies from around the world. This is a very exciting time in which wireless technology, Wearables and the Internet of Things (IoT) is transforming how people view and interact with the world. By investing in the young students of today, we are building a bright future of STEM for future generations.
Eligibility: Students in grades 7-12
Date: Thu, May 26, 2016, 8:00am - 2:30pm
Location: Moscone Center, San Francisco, CA
Cost: FREE. The event is free and provide breakfast and lunch are provided
Program Goals:
1. To introduce students to wireless technology (technology/careers/networking) through a Science, Technology Engineering & Math (STEM) focused "day at a conference" experience.
2. To integrate university/industry educational engagement with technical speakers, hands-on activities, informational tables, and a tour of the show floor (exhibition).
3. To create an opportunity for quality interaction between possible future engineers/scientists, practicing engineers and college students set in the dynamic and engaging foum of an international engineering event.
Target Audience: Motivated middle and high school age students, with an interest in STEM (Science, Technology, Engineering & Math). In addition, we would like to involve a pool of 5 to 10 high school/middle school teachers in the program. The program is open to children of IMS attendees traveling with parents, as well as students from local public/private high schools and home schools.
Requirements: All participants need so submit an application and a parental release form. Participants must able to commit a full day to the planned activities. A selection committee will choose the actual participants based on information on the application form (including description of academic interests and extra-curricular STEM activities) and space availability.
How You Can Help: IMS2016 will be looking for participation in the following areas.
Corporate Sponsorship
Industry and Academic Speakers
Mentors
Schedule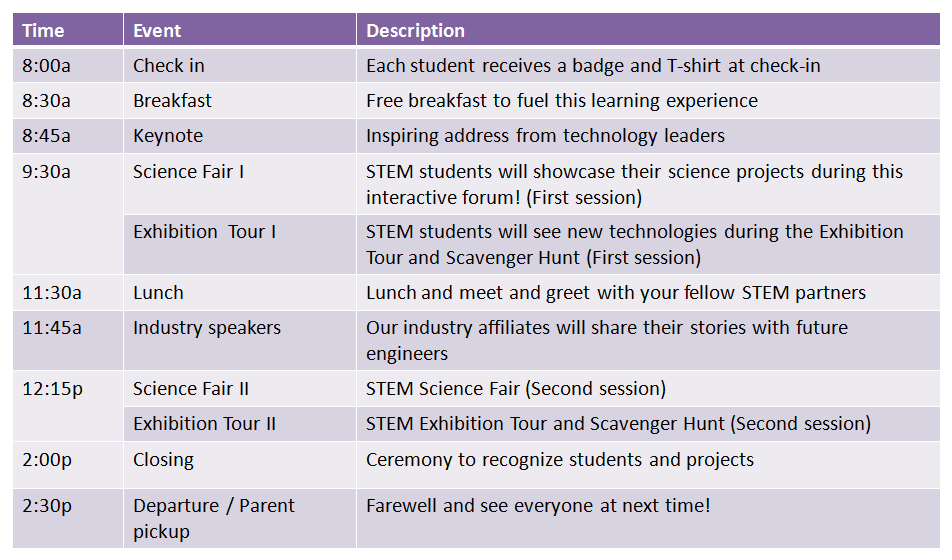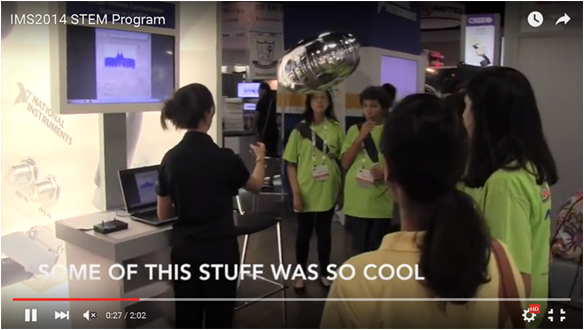 The IMS STEM Science Fair is a fun and exciting opportunity for our STEM students to showcase their work at one of the largest engineering conferences of the year. At the science fair, STEM students will have the opportunity to engage professionals from industry and academia. With an expected attendance of over 10,000 attendees, this will be a great chance to be recognized for your hard work, talent, and potential as a future scientist or engineer!
Format
At the STEM Science Fair, students will engage with university-level graduate students, professors and industry representatives in a face-to-face interactive forum. This unique engagement will provide audiences with an in-depth discussion of your favorite school science project!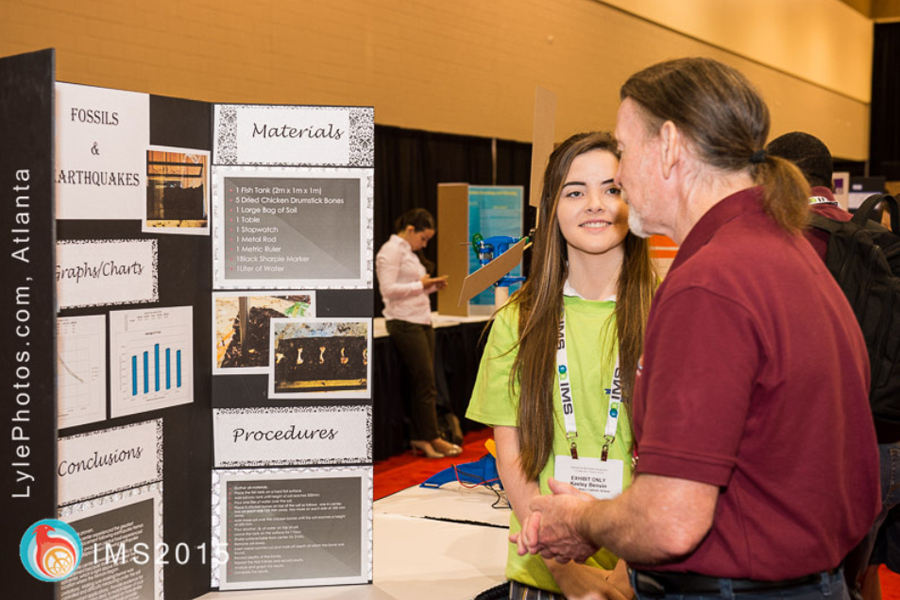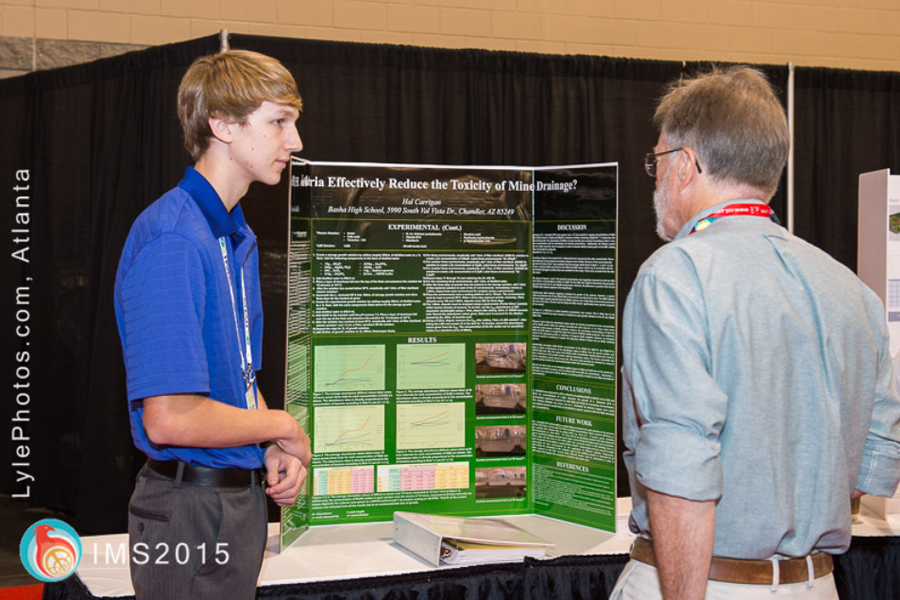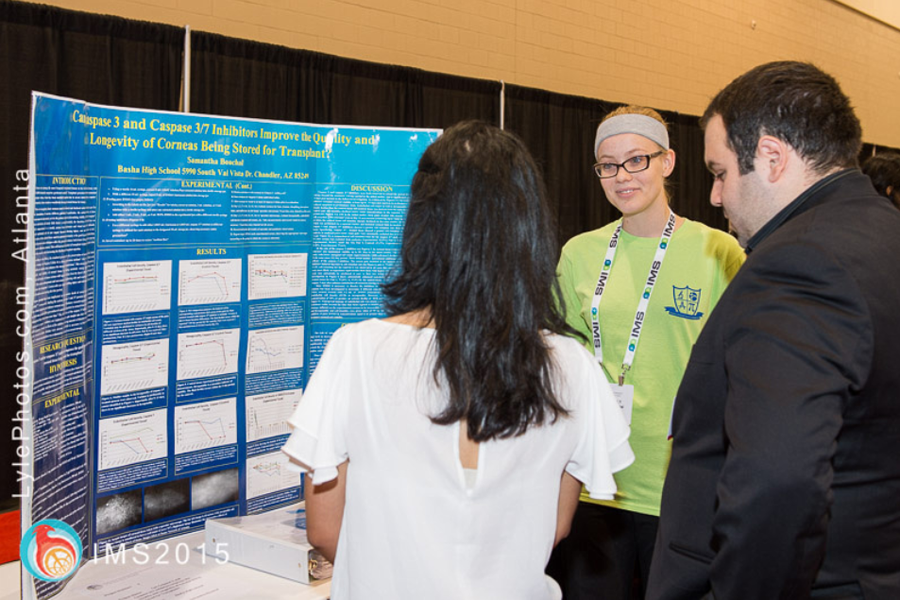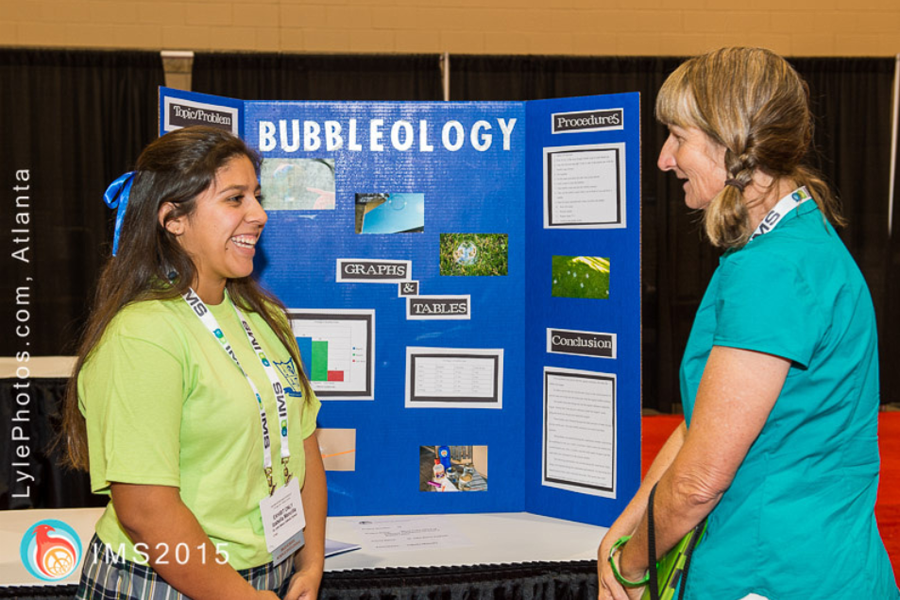 Each science fair presenter or group will be assigned a table with a size of 48" x 30". The presenter will display a poster board summarizing the motivation, process and results of their work (See Fig. 1). The presenter is also encouraged to bring their project if it is portable and safe to do so. This can range anywhere from robotics projects, electronic devices, scale models etc. Anything you can do on this table space is up to you.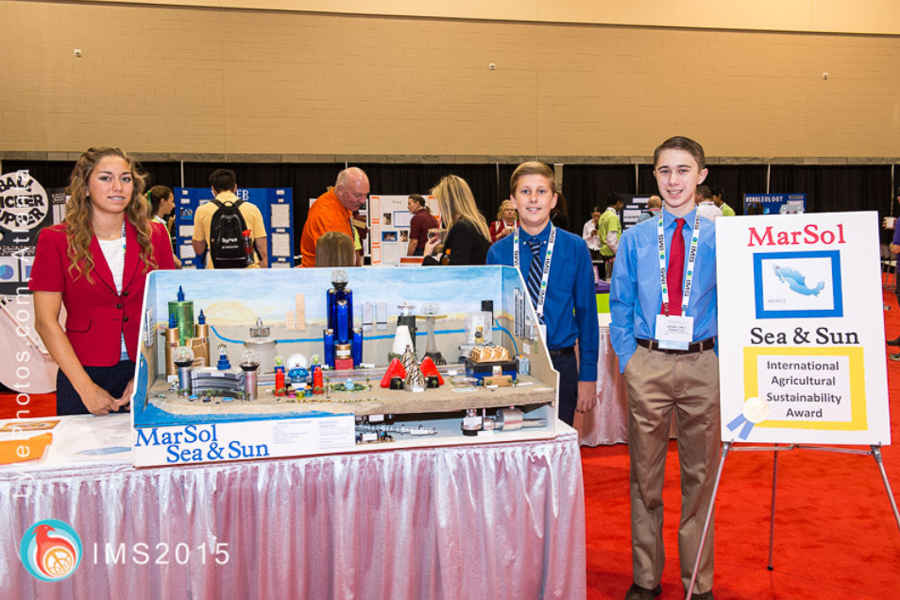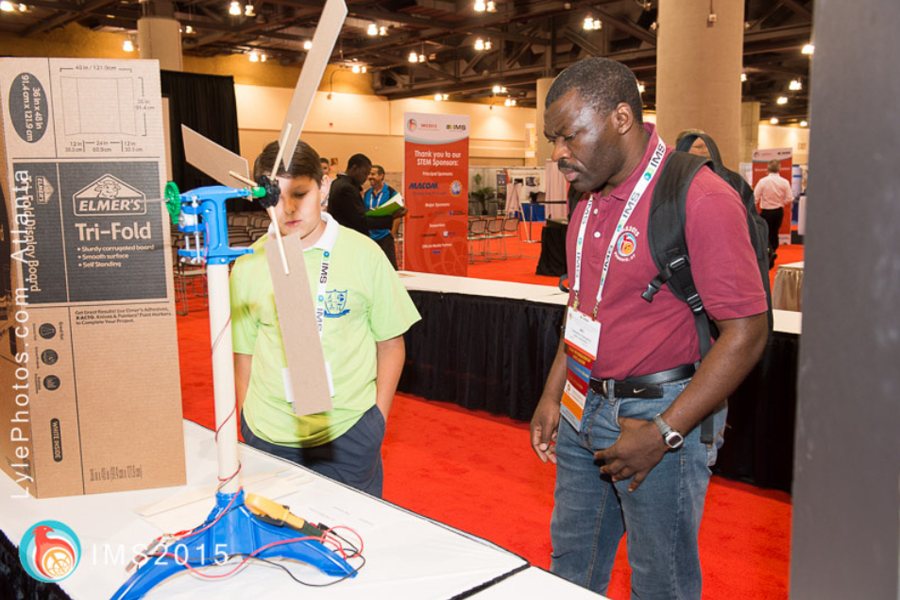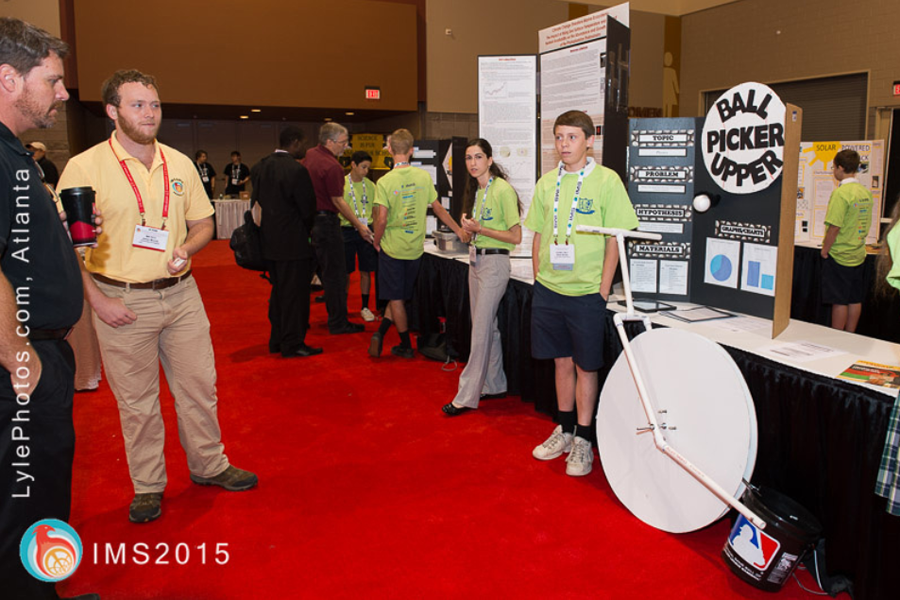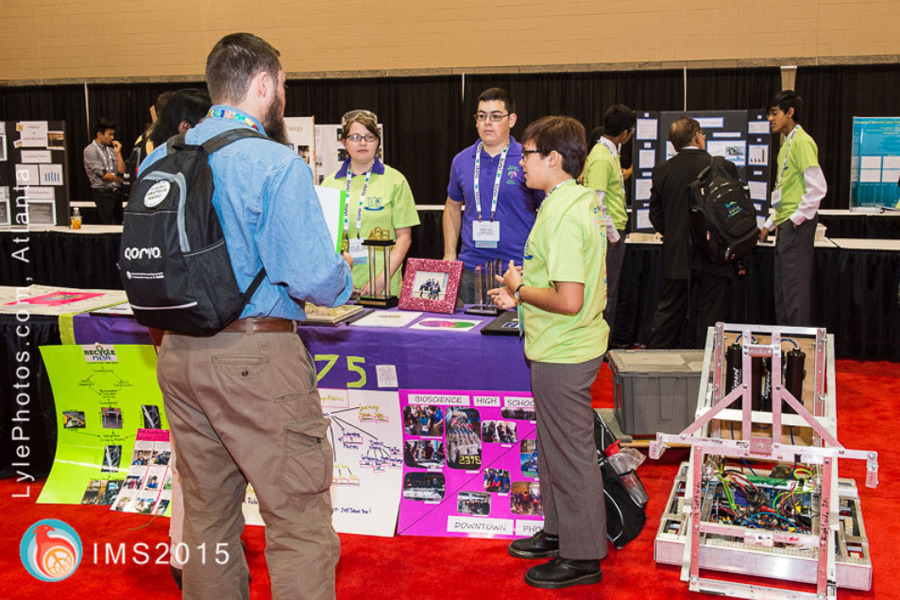 There will be two 1hr 45 min science fair sessions during the event. The presenter(s) will stand by their poster and demo during one of the two sessions to answer questions from attendees.
Any project with and engineering and/or science emphasis is welcome. However we do not recommend bringing hazardous materials.
Some examples of last year's posters:
Wind Energy
Bubbleology (the study of bubbles)
F1 in Schools
Fossils and Earthquakes
Solar Powered Backpack
Oral Health: The Impact of Bacterial Colony Counts and the Order of Breathing and Flossing
Water Sense
Climate Change Threatens Marine Ecosystems
Ball Picker Upper
Shaping Gradients: Evaluating growth of microorganisms
Caspase 3/7 Inhibitors Improve the Quality and Longevity of Corneas Being Stored for Transplant
Participants
The science fair portion of our STEM event is open to any of our STEM student participants. While there is no limit to the amount of contributors on the project, we would like to limit 1-2 presenters at each table.
Preparation
The STEM Science Fair participant is responsible for printing and assembling their displays and bringing it with them to the conference.
Posters and exhibits will be set up after arrival from 8:00am to 8:45am.
The STEM volunteers will be available during the preparation period to provide set up assistance or answer questions.
Poster
Give considerable thought to the design and presentation of your poster to make sure that it stands out as an attractive and informative presentation. You want to be certain that the audience comes away with a clear understanding of your work.
Size: Any poster which can stand on its own and fit on the 48" x 30" table can be used. A recommended poster board size is 36" high by 48" wide which can be purchased at any office supplies store: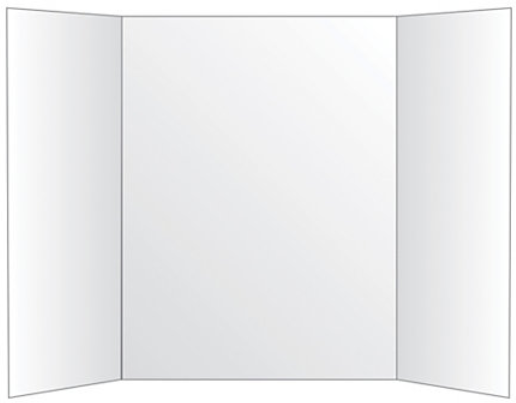 Staples
http://www.staples.com/Elmer-s-White-Corrugated-Display-Board/product_302919
Target
http://www.target.com/p/elmer-s-36x48-trifold-corrugate-project-display-board/-/A-15058099#prodSlot=medium_1_2&term=trifold+display+board
Office Depot
http://www.officedepot.com/a/products/434415/Office-Depot-Brand-72percent-Recycled-Tri/;jsessionid=0000y4w35Canl_-Aj5efh0W-npO:17h4h7aom
A completed presentation poster should resemble (but is not limited to) the following:
Remember to include at the top of the poster the Title, Author(s), School and Teacher's name.
Try to highlight the main points using charts, graphs, photos and illustrations.
To ensure visual effectiveness of your poster, use large and clear text and graphics.
Summarize the main points and highlight the novelty of the work and make sure there is a meaningful conclusion to the work.
Posters should be designed for clear viewing from a distance of beyond 5 feet so that they can be viewed by a number of people at the same time.
Finishing up
Please pack up your poster by 2:30pm, the end of the STEM student event.
Posters not removed will be considered unwanted and will be discarded.
Awards
All of our STEM Science Fair participants will be recognized at the end of our event.
Judges from industry and academia will announce the Best Poster Award at the end of the event.
For more information regarding the IMS2016 STEM program and how you can become involved please contact: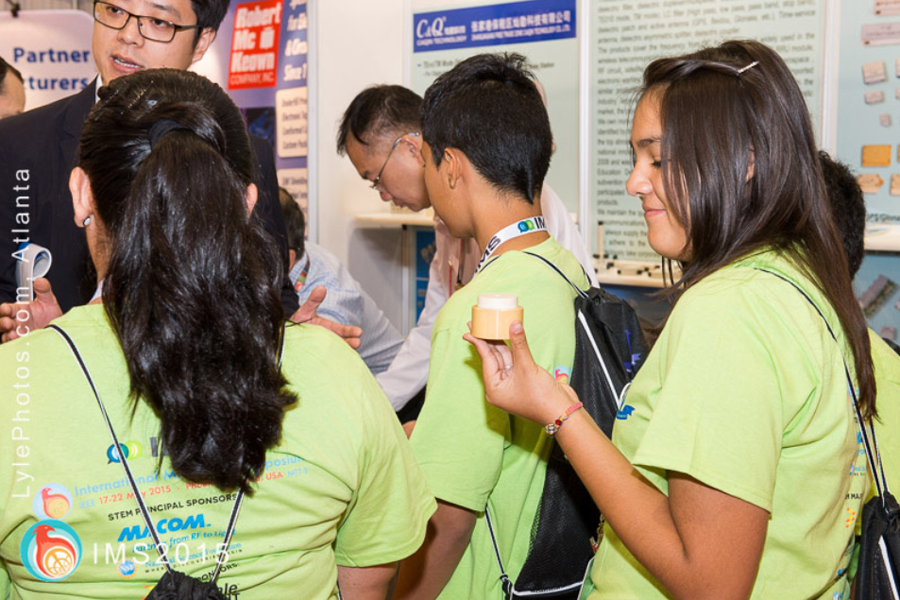 The exhibition tour is a fun and exciting activity where students will be able to learn about the cutting edge in electronics from leading companies in industry!
The exhibition tour is a great time for a Photo Scavenger Hunt
Format
The Scavenger Hunt is a team event with one person designated as the photo taker.
At the start of the Exhibition Scavenger Hunt, the teams will receive a list of item descriptions.
Goal: Identify and snap as many items as you can from the scavenger hunt list.
Remember: Designate one person from your team to be the official photo taker.
Rules
Each item description can be counted only one time.
Winner
At the end of the Exhibition Scavenger Hunt, the judges will count how many items each team found.
The team with the most items from the list will be crowned winner!
Example list of Scavenger Hunt Items:
Something very tiny
Something very large
Something very weird looking
Something made of metal
Something made of plastic
Something very boring
Something very exciting
Something very shiny
Contact General Information: Amanda Scacchitti (This email address is being protected from spambots. You need JavaScript enabled to view it.)
Sponsorship Contact: Susie Horn (This email address is being protected from spambots. You need JavaScript enabled to view it.)
IMS2016 STEM Chair: Kelvin Yuk (This email address is being protected from spambots. You need JavaScript enabled to view it.)
IMS2016 STEM Co-Chair: Beric Dunn (This email address is being protected from spambots. You need JavaScript enabled to view it.)
More about STEM at IMS2016:

As members of the IEEE Microwave Theory and Techniques (IEEE MTT), our society has the honor and pleasure of holding our international conference next year in San Francisco (http://www.ims2016.org/). It is a rare opportunity for our region as it goes to a different city every year. The last time it was in San Francisco was 2006. Our conference focuses on research and development in wireless, RF and microwave technology.
Our committee is composed of academics and industry professionals who share a passion for technology, teaching and student outreach. Our main objective is to create a compelling experience for students (grade 7-12) and inspire them to become our future engineers and technologists. For the two years, we have held a STEM Student Experience in which we invite local middle and high school students to tour the exhibition hall and participate in hands-on demos. We hope that providing real-life exposure to unique technologies will help spur interest in STEM prior to attending university.

We invite people from all backgrounds but are especially interested in supporting students from different backgrounds and girls, as we work towards achieving improved gender balance and diversity in engineering. Without the exposure to science and technology, these audiences may shy away from tech-related careers, without the chance to explore these fast-growing fields of study.