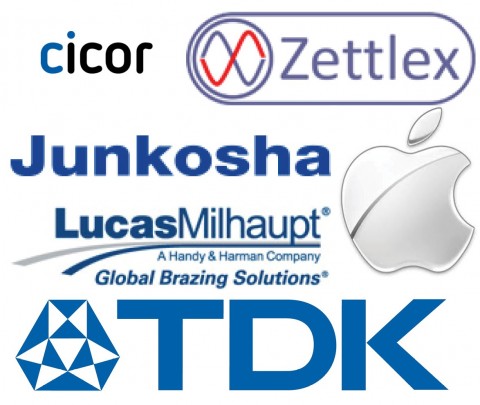 The IMS, the exhibitor segment, is still thriving off of the proven formula of connecting academia, corporations and governments involved in the microwave and RF industry. This year's host city, San Francisco, hopes to continue to break attendance records. The exhibition is almost completely sold out. For those not staying the entire week, it can be an overwhelming task to try to see and do everything that IMS has to offer.
Below is a quick snap shot of this year's first time exhibitors. More than 30 new exhibitors hailing from Canada, China, Finland, Japan, Malaysia, South Korea, Taiwan, United Kingdom as well as the USA. The companies offer a variety of RF and MW products. The mix of products spans from amplifiers to VNAs, and …iPhones? Yes, even Apple is jumping into the excitement of IMS!
As a reminder, IMS offers a free pass to the exhibit halls on Wednesday. Stop by and check out their products and services. Let's help them feel the IMS magic!
| | | | |
| --- | --- | --- | --- |
| Account Name | Products | Head Quarters | Booth # |
| | Isolators, Circulators | S. Korea | 448 |
| | Attenuators | CA, USA | 2322 |
| | Amplifiers, Mixers, Detectors, Converters, Power Combiners | CA, USA | 352 |
| | Amplifiers, Mixers, Switches, Limiters | NY, USA | 402 |
| | iPhones, iPads, MAC, Apple Watch | CA, USA | 118 |
| | Attenuators, Circulators, Couplers, Diplexors, Filters, Isolators, Phase Combiners, Power Combiners, Terminations, Waveguide | Canada | 2312 |
| | Amplifiers, Couplers, Combiners, Synthesizers, Filters, Antennas | China | 230 |
| | Amplifiers, Filters, Switches, Synthesiszers, Subassemblies | China | 2613 |
| | PCBs, Thin Film, Thick Film, Microelectronic Assy, Packaging | Switzerland | 223 |
| | TWT Amplifiers, MPMs, Power Supplies | CA, USA | 214 |
| | Designs, Manufactures Antenna Measurement Systems, RF Amplifiers | CA, USA | 1650 |
| | Kovar Lids, Ceramic Packages | China | 2540 |
| | X-ray Photoelectron Spectrometers | United Kingdom | 1121 |
| | Fusion Splicer, Power Meters, Vector Signal Generators, Spectrum Analyzers | China | 2411 |
| | Microelectronic Packages, DBC Substrates, ALN Substrates | China | 221 |
| | Crystals, Oscillators, VCXO, TCXO, OCXO, Resonators, Filters | NV, USA | 440 |
| | Amplifiers, Attenuators, Mixers, Switches | CA, USA | 316 |
| | Wires, Cables, Injection Molding, Liquid Leak Detection Systems | Japan | 443 |
| | Cables (Coax, RF, High Speed) | China | 2632 |
| | Brazing and Soldering Services | WI, USA | 133 |
| | Matching Circuit Solution Software | Finland | 1528 |
| | ASIC and IC Design Services in SiGe, CMOS | CA, USA | 2523 |
| | Cable and Antenna Analyzer, Vector Signal Generator, Synthesized Signal Generators | China | 603 |
| | Circulators, Isolator, Attenuator, Termination, Coupler, RF Switches, Amplifiers | CA, USA | 1931 |
| | Antennas, RF Connectors, Connector assemblies | Taiwan | 253 |
| Sung Won Forming | Semiconductor Equipment, Electro Forming, Optical Communication, Plating Solutions | S. Korea | 2509 |
| | Capacitors, Inductors, SAW, Magnets, Ferrites, Sensors | NY, USA | 218 |
| | Vector Signal Generator, Spectrum Analyzer | Canada | 2545 |
| | Amplifiers, T/R Modules, RF Assembly, Frequency Synthesizers | S. Korea | 2525 |
| | Printed Circuit Boards | Malaysia | 2625 |
| | Inductive Position Sensors | United Kingdom | 2633 |
| | Connectors, Cable Assemblies, Attenuators | China | 2547 |